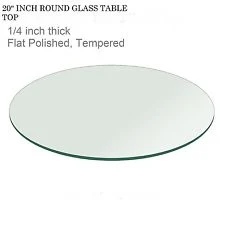 Glass table top
---Tempered Glass---safety and nice
---20-day fast delivery
---AS/NZS 2208: 1996, BS6206, EN12150 approved.
Material: Float glass
Thickness: 3-19mm
Art: Tempered
Size: 1700*900*760mm
Used in furniture, bathroom, building, appliance and mirror
Features:
1. Tempered glass is a kind of safe glass and the fragment of which does no harm to people.
2. Its 4-5 times safer and harder than ordinary annealed glass.
3. Special logo and pattern can be printed on tempered glass.
4. Outstanding performance in resisting thermal stress and wind-load.
5. Bear sudden temperature change of 220 centigr
Tempered glass is to heat glass up to 700 degrees and then rapidly cool down, according to different degrees; There are two kinds of this glass: Full tempered glass and half full tempered glass.
Specification
Thickness: 4mm-25mm
Maximum measurement: 8800mmX2440mm
Minimum measurement: 250mmX100mm
Annual Productivity: 1, 100, Square meters
Inspection
AN/NZS 2208: 1996, BS6206, EN12150
Equipment
US made TAMGLASS Continuous Tempering Furnace
Finnish made TAMGLASS Flat Tempering Furnace
Bending and Tempering Furnace
Appliation
Windows and another parts of building; Glass railings and escalator railings; The windows of cars and ships; Glass tabletop and display shelf; Indoor decoration and furniture etc
Warmly welcome to visit our factory.